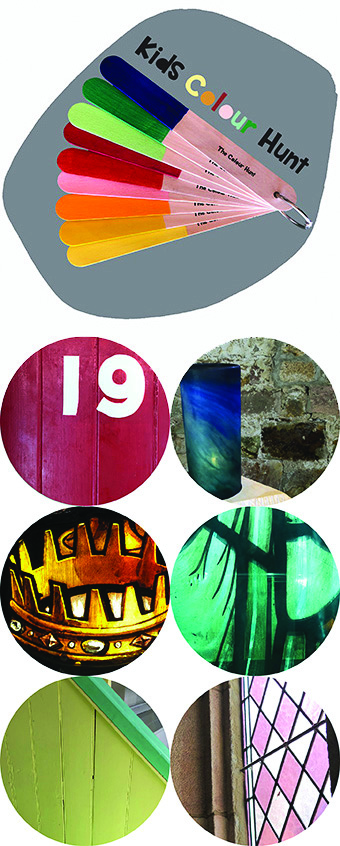 We have teamed up with Brisbane Open House this year to curate an engaging kid's adventure throughout the inner-city.
Put on your walking shoes and get ready to go on a Colour Hunt!
Start your adventure at the BOH information booth in King George Square.  Pick up your very own colour kit complete with orienteering map, activity sheet and colour swatches to guide you on your quest through some of our beautiful buildings and unlock the colours of Brisbane.
In amongst the hard, built environment, colour is just waiting to be discovered.  From mesmerising stained glass windows, to mysterious tiled baths, to vaulted doors and maybe even a fire truck.  Search like a detective to see if you can discover the super powers of colour.  Be careful though, colour has the power to brighten up your day!
There will be a special prize up for grabs, simply Instagram photos of your child's colour hunt and use the hashtag #BOHcolourhunt and #bneopenhouse for your chance to win the treasure.
This FREE colour journey will be sure to keep the kids entertained as they join the adults on their own journey around BOH! For more information please visit www.studiosam.com.au

Small Smiths is a hands on, craft based, kids club aimed at 4 and 8 year olds.
Sam developed the program to: plant the seed for creative thinking, feed curiosity, provide inspiration to kids and their loved ones, promote community connections and to have FUN.
The first Small Smiths club has popped up at the Soul Pantry in Stafford, Brisbane.  Please click here for the details.

Kindy or school is over for the week.  Time for some FUN!
Come along and join creative Sam Parsons amongst the jungle for some awesome craft activities.  All materials provided.
Parents are welcome to join in or enjoy a 20% discount at the cafe and shop. We do however, require adults to stay on premises throughout club.
time 45 minute sessions from 4 to 4.45pm Friday afternoons.
term dates 27th July to 28th September 2018 (10 week term).
venue the Soul Pantry, 31 Wolverhampton St Stafford, QLD.
snack Weekly $5 club snack at the Soul Pantry Cafe from 3pm.
cost Flexible memberships are available from $15/class or individual sessions from $25/class.  More info here.
age group ideal for 4 to 8 years of age.
bookings Limited places. Please visit our Facebook Page to reserve your sessions  or contact Sam directly at sam@studiosam.com.au or 0417 344 137.
for more information please head on over to our Frequently Asked Questions Page.

Why the name Small Smiths? Good Question! A Smith is a skilled person who makes things.  Often smith is added to the end of a word to signify a type of craftspeople or occupation.  For example a locksmith makes locks.  Other examples include a Booksmith,  Silversmith, Shoesmith and Wordsmith to name a few.  A small smith = a small person who makes things.
How does Small Smiths differ from other kids activities? Kids have lots of regular, extra curricula activities these days (keeping mums and dads busy!).  Small Smiths is a flexible club, meaning you can come when it suits you.  It is designed to give kids and carers a break, to be social and to inspire fun.  Each Smith session will explore, and subsequently be named after, a different type of craft (eg Book Smith session, Colour Smith session, Plant Smith session and the like).
Can you tell us a little about the venue? The inaugural, pop-up Small Smiths club will be held at Soul Pantry in Stafford, amongst the lush indoor foliage and fresh flowers.  With it's artisan cafe, shop, and garden hub it is a well known community hub. The easy-going, family friendly atmosphere is the perfect place to unwind at the end of the week.   There is car parking located on site and along adjacent streets.
Is club offered at any other times or venues? At this stage this is the only time and venue, but we really hope to add extra sessions and venues soon.  Stay tuned!  We can run workshops and craft parties on an as needs basis.  Please contact Sam to discuss your needs.
Who is facilitating the club?  Small Smiths will be facilitated by the creator of Small Smiths, Sam Parsons.  Sam is a natural born creative.  She is an interior designer, landscape architect, a keen stitcher, Booksmith and mum to two young boys.
What is the format of Small Smiths?  After school or kindy please head on over to Soul Pantry at anytime to enjoy a special afternoon tea.  Sam will be on site for any queries or guest registrations from 3.30pm. Each session will start at 4pm with a short introduction to the weekly activity.
Are parents required to attend? The program is aimed at children who are currently in kindy, prep or grades 1 to 3 (ie 4-8 year olds).  We recommend carers sit with any children who are currently in kindy or prep.  All other parents are welcome to sit with their child or enjoy Soul Pantry.  It is important however, that carers don't leave the premises during the session, and are available if required to assist their child.
What do we need to bring and what will be provided? We provide aprons for the children to wear.  Although we are not intending on doing anything too messy, please wear clothes that are suitable for crafting and not to precious (just in case).  You are also welcome to bring you own art smocks.  All materials and equipment required will be provided.
What will the kids get to take home with then each week?  On completion of each session, the kids will also be given a 'Small Smiths' token to add to their collection.  The Small Smiths also get to take their weekly creations home.
What is the cost to participate? For the inaugural Small Smiths we have 2 special introductory offers:  1) A flexi membership or 2) a guest pass.  A flexi membership includes a pack of 5 sessions which allows the Small Smith to attend any 5 classes during the 10 week term for $75.  That is $15 per session.  The members can buy additional, single sessions during the term at the same rate of $15/session.  A guest pass is ideal for those who would like to just pop in and do 1 or 2 classes.  These individual sessions are $25 each.
What are the benefits of attending Small Smiths? The club is designed to be as cost effective as possible for families; using everyday items and found objects in creative ways.  Each Small Smith (member or guest): will receive a 'Small Smiths' token on completion of each session; can borrow a Small Smith Apron; and purchase a super dooper afternoon tea at the cafe for only $5.  Parents / carers also benefit.  They can join in (no extra cost) or enjoy a well earned break at the cafe or shop (20% discount), catch up with a group of friends (why not make it a regular Friday afternoon event) and build local community connections.
What are the added benefits of becoming a flexi member? 1) This membership allows flexible attendance throughout the term meaning there is no set commitment each week. You choose when you want to come (all we ask is for you to let us know when you might like to come so we can cater for your Small Smith).  2) Any additional, individual classes during the term are only $15 each ($10 savings). 3) Each member will receive a reward on completion of the term (5 classes minimum).  4) Members will have the opportunity to participate in the annual Small Smith exhibition. 5) The first 20 members to sign up will receive a welcome show bag. 6) Members will receive discounts on any Small Smith craft packs and aprons (coming soon).
How do we join the club and make reservations for the sessions?  To buy a membership please contact Sam directly.  Individual sessions for guests can be purchased directly from Sam on arrival (credit card, direct debit or cash).  Although you are welcome to come to any session, it would be really awesome if members and guests could reserve their classes in advance on our Facebook Event Page so we can ensure we cater for everyone. Please not classes are not transferable after the end of the term (unless agreed in writing by Sam in advance).  When signing up you will be asked to provide your child's name, age and their favourite colour.
Do you offer free trial classes? Sorry, so we can keep the prices as low as possible we are unable to offer a free trial. But please feel free to come down and have a look one Friday afternoon or visit the weekly display of works.
THANK YOU.  We are so excited to see the great Small Smith Creations during the term.  If you have any suggestions for classes or additional venues we would love to hear from you so we can continue to make Small Smiths even more enjoyable and convenient.  Sam.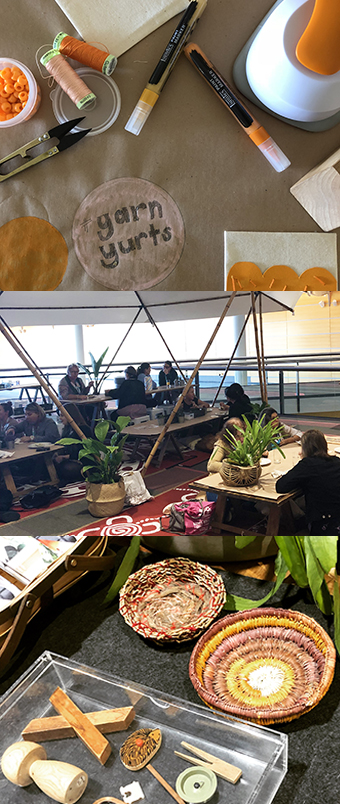 Sam was recently engaged by C&K to create a temporary breakout lounge and creative activity for their 2018 QLD Early Education and Care Conference at the Brisbane Convention and Exhibition Centre.
The lounge, titled the 'Yarn Yurts', was created to celebrate the 2018 conference themes of: cultural diversity and inclusivity; inspiring imagination; and cultivating language.  It was provided to spark conversation, the sharing of ideas during and after the conference and to promote peer to peer learning, collaboration and a sense of community amongst the 800 delegates.
The space was inspired by the floor living cultures of the world.  Gathering and residing on the floor for everyday activities such as eating, cooking, resting, socialsing and crafting is a common tradition between cultures around the world. Sitting on the floor is one of our most natural positions (being a favourite with children) and there are many benefits.
The 'Yarn Yurts' lounge was set amongst artisan made yurts on a bed of floor rugs.  It provided a casual space for delegates to relax, have a yarn and contribute to a collective, modular artwork using the global languages of colour, pattern and smiling.
For more images please visit us on instagram @studioussam and #yarnyurts.
photography Sam Parsons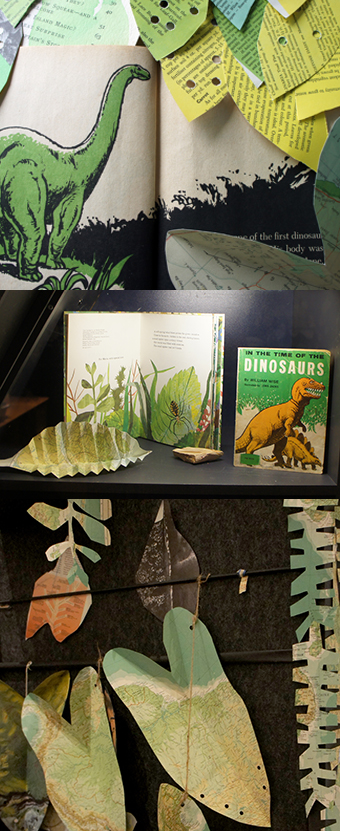 Several years ago now Sam created and facilitated a kids workshop at the Queensland Museum titled 'Jurassic Jungle'.  The workshop ran during school holidays and coincided with the Explore-a-saurus exhibition.  For more images please visit us on instagram @studioussam.
Millions of years ago when the dinosaurs perished so did a vast majority of the plants they ate and the habitat they lived in.  What would their landscape have looked like? Lush, tall, jungle like? What plants would have flourished?
Using paper and cardboard help craft and watch the jungle grow.  Who knows the dinosaurs may even come to visit!
photography Samantha Parsons

We are pleased to share with you a photo from a photo shoot we styled and directed.  Thank you to the amazing Brisbane children's photographer Maddie from Etta Photography.  Welcome to the world little man.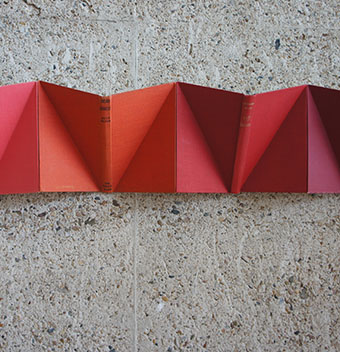 Sam was invited to participate in the QLD Museum's 2013 'Bespoke' exhibition.  Sam designed and developed a new series of works titled 'Bookscapes', which explored interior surface topography.  The pieces were a culmination of Sam's design background and her passion for folding, colour, fabrics and form generation.  These undulating wall surfaces, like Bookscreen, utilised discarded hardback book covers.
photography Sam Parsons

We are excited to present Outee – a furniture module and planter designed by Sam.
Outee was initiated to address real needs, in particular the challenges of urban growth.  It was designed with micro-scale spaces in mind. The compact design and adaptability of the module provides a spatial solution where floor space is limited.
The Furniture Module offers several functions simply by rotating it – a table and chair, a bar stool, a bench or a high table.
The Planter can be rotated to provide 2 different pot sizes for a variety of plants and / or stages of maturity.
Outee would be ideal for small outdoor spaces such as balconies.  It would also sit comfortably in bookshops, breakout spaces, kids bedrooms and the like.  Its flexibility would earn it high praise at  galleries, resorts, cafes, libraries, universities and schools.
The design of Outee was proudly supported through a Creative Sparks Grant, a joint initiative of Brisbane City Council and the Queensland Government through Arts Queensland.
photography Mindi Cooke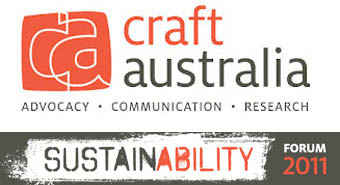 'Sam Parsons: Musing on a Sustainable Practice' was a special feature on the Craft Australia blog in 2011.
This is what I had to say:  "To me sustainability goes beyond material selection, recycling and minimizing environmental and social impacts. These should go without saying.  To me sustainability is about asking the bigger questions. Do we really need more designer furniture?  Does the design contribute something worthwhile?"
"As a designer I grapple with questions like these on a constant basis.  I am consequently committed to designing solutions that have real purpose, respond to everyday needs, are adaptable, contribute to the quality of life, can transcend transient fashion and importantly challenge society's 'throw away' mentality".