We are please to announce our Small Smiths Program for the September School Holidays.
Ages Ideal for Primary School Aged Children. *Each class is designed to cater for varying skill levels.  Depending on the final number of participants and the class type, Children aged 5 to 6 may require an adult to participate with them.
Class size up to 10 participants.
All sessions have been developed by and will be facilitated by Sam herself.
See more images of the projects on Instagram @studioussam and Facebook here.
Sounds awesome?  Give Sam a call (0417 344 137) or email us today to book. Numbers limited and places will fill fast.  T and C's apply.  Full payment required to secure bookings.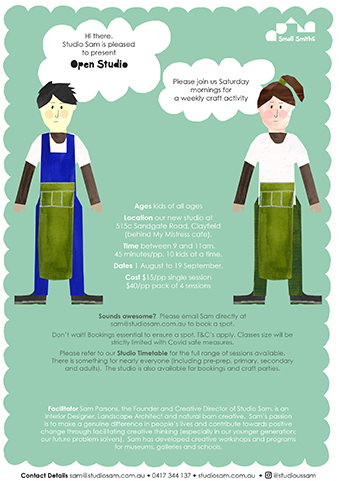 We are running a weekly craft activity Saturday mornings at our new studio for kids of all ages.
Details  Saturdays, between 9 and 11am.  45 minutes/pp. 10 kids at a time.  1 August to 19 September 2020.  $15/pp single session or $40/pp for a pack of 4 sessions.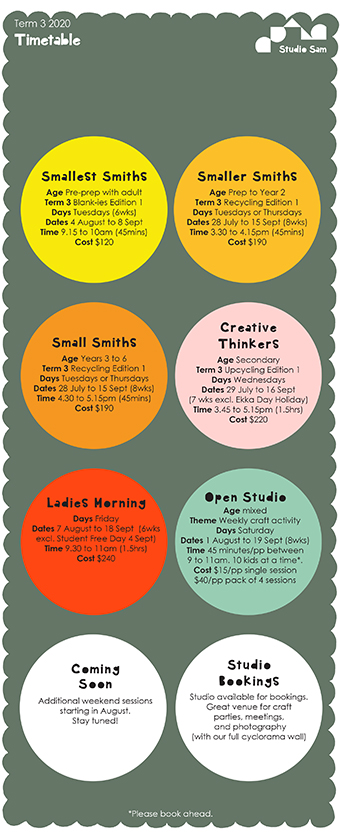 Sounds awesome?
Don't wait! Numbers strictly limited and places are filling fast. Reserve your spot in 2 simple steps:
1] Email Sam with your preferred session at  sam@studiosam.com.au
2] Sam will email a Registration / Consent form with our T&C's and payment details.
About the Programs and Studio
Small Smiths Craft Club – is a craft based program designed for pre-prep and primary aged children to: plant the seed for creative thinking, feed curiosity, provide inspiration to kids and their loved ones and to create great childhood memories.
Other creative programs – designed to inspire and foster design thinking in the broader community.
Creative hub – our lovely studio is literally a 'blank canvas'.  The possibilities are endless.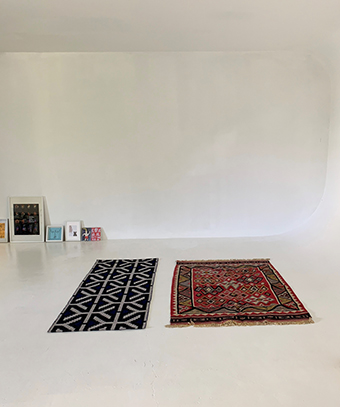 Yeah! We are super excited to announce that we have a fab new studio space.
As you can see we are still setting it up.
Please drop by to have a look.
We are also updating our website and refreshing our brand.  Stay tuned!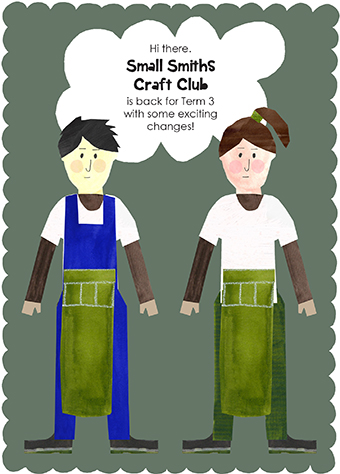 We have a new permanent studio at 515c Sandgate Road, Clayfield (behind My Mistress cafe).
Classes will be limited to 10 with Covid safe measures.
Dates Week 3 to Week 10
There will be 2 classes a night:
Small_er Smiths Prep* to Yr 2, 3.30 to 4.15pm, Tuesday's or Thursday's.
Small Smiths Yr 3 to Yr 6, 4.30 to 5.15pm, Tuesday's or Thursday's.
* Parental supervision required for new Prep members. T&C's apply.
Theme We'll be exploring creative thinking using recycled & found objects.
Cost $190 for the term including 8 sessions, all materials, a folio, club badge & all creations.
Facilitator Sam Parsons
Sounds awesome? Please email Sam directly at sam@studiosam.com.au to book your spot. Don't wait! Places are filling fast.
Please refer to our Studio Timetable for the full range of sessions available. There is something for nearly everyone (including pre-prep, secondary and adults). The studio is also available for bookings and craft parties.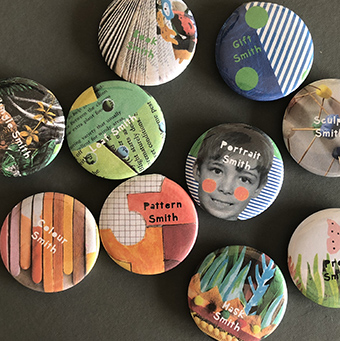 What is Small Smiths? Small Smiths is a hands on, craft based club for school aged kids and pre-prep.  Sam developed the program to: plant the seed for creative thinking, feed curiosity, provide inspiration to kids and their loved ones, promote community connections and to have FUN.
Why the name Small Smiths I hear you ask? Good Question! A Smith is a skilled person who makes things.  Often smith is added to the end of a word to signify a type of craftspeople or occupation.  For example a locksmith makes locks.
A small smith = a small person who makes things.
Typically each Small Smith session  explores, and is subsequently be named after a different type of craft (eg Book Smith, Colour Smith, Plant Smith and the like).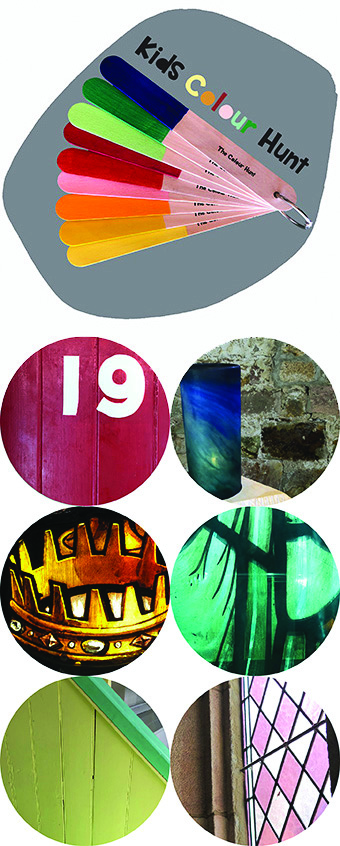 We teamed up with Brisbane Open House in 2018 to curate an engaging kid's adventure throughout the inner-city. The Kids Colour Hunt!
"In amongst the hard, built environment, colour is just waiting to be discovered.  From mesmerising stained glass windows, to mysterious tiled baths, to vaulted doors and maybe even a fire truck.  Search like a detective to see if you can discover the super powers of colour.  Be careful though, colour has the power to brighten up your day! This free colour journey will be sure to keep the kids entertained as they join the adults on their own journey around BOH"!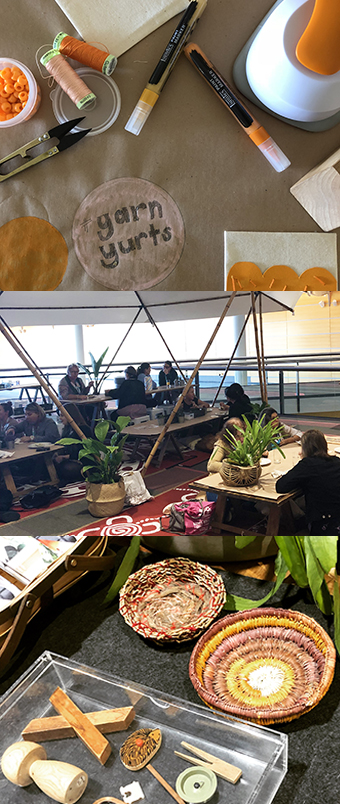 Sam was engaged by C&K to create a temporary breakout lounge and creative activity for their 2018 QLD Early Education and Care Conference at the Brisbane Convention and Exhibition Centre.
The lounge, titled the 'Yarn Yurts', was created to celebrate the conference themes of: cultural diversity and inclusivity; inspiring imagination; and cultivating language.  It was provided to spark conversation, the sharing of ideas during and after the conference and to promote peer to peer learning, collaboration and a sense of community amongst the 800 delegates.
The space was inspired by the floor living cultures of the world.  Gathering and residing on the floor for everyday activities such as eating, cooking, resting, socialising and crafting is a common tradition between cultures around the world. Sitting on the floor is one of our most natural positions (being a favourite with children) and there are many benefits.
The 'Yarn Yurts' lounge was set amongst artisan made yurts on a bed of floor rugs.  It provided a casual space for delegates to relax, have a yarn and contribute to a collective, modular artwork using the global languages of colour, pattern and smiling.
For more images please visit us on instagram @studioussam and #yarnyurts.
photography Sam Parsons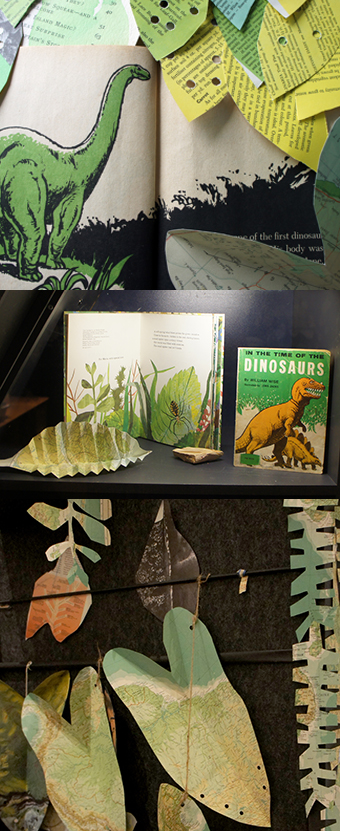 Several years ago now Sam created and facilitated a kids workshop at the Queensland Museum titled 'Jurassic Jungle'.  The workshop ran during school holidays and coincided with the Explore-a-saurus exhibition.  For more images please visit us on instagram @studioussam.
Millions of years ago when the dinosaurs perished so did a vast majority of the plants they ate and the habitat they lived in.  What would their landscape have looked like? Lush, tall, jungle like? What plants would have flourished?
Using paper and cardboard help craft and watch the jungle grow.  Who knows the dinosaurs may even come to visit!
photography Samantha Parsons

We are pleased to share with you a photo from a photo shoot we styled and directed.  Thank you to the amazing Brisbane children's photographer Maddie from Etta Photography.  Welcome to the world little man.