Small Smiths is a hands on, craft based, kids club aimed at 4 and 8 year olds.
Sam developed the program to: plant the seed for creative thinking, feed curiosity, provide inspiration to kids and their loved ones, promote community connections and to have FUN.
The first Small Smiths club will be popping up at the Soul Pantry in Stafford, Brisbane.  Please click here for the details.

Kindy or school is over for the week.  Time for some FUN!
Come along and join creative Sam Parsons amongst the jungle for some awesome craft activities.  All materials provided
Parents are welcome to join in or enjoy the Soul Pantry cafe and shop (20% discount)
time 4 to 4.45pm Friday afternoons
term dates 27th July to 28th September 2018
venue the Soul Pantry, 31 Wolverhampton St Stafford, QLD
snack Weekly $5 club snack at the Soul Pantry Cafe from 3pm
cost Flexible memberships are available from $15/class or individual sessions from $25/class.  More info here.
age group ideal for 4 to 8 years of age.
bookings Limited places. Please visit our Facebook Page to reserve your sessions  or contact Sam directly at sam@studiosam.com.au or 0417 344 137.
for more information please head on over to our Frequently Asked Questions Page.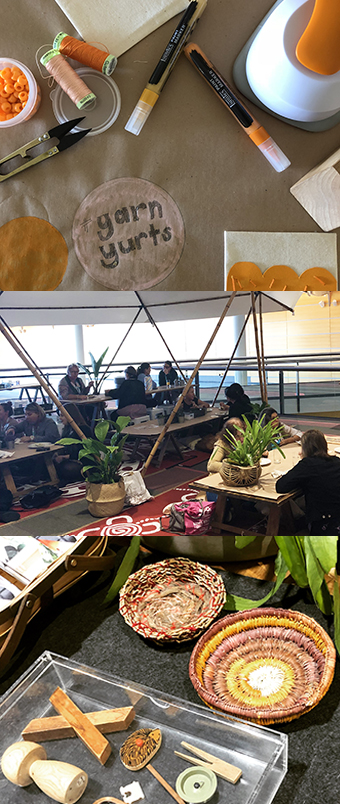 Sam was recently engaged by C&K to create a temporary breakout lounge and creative activity for their 2018 QLD Early Education and Care Conference at the Brisbane Convention and Exhibition Centre.
The lounge, titled the 'Yarn Yurts', was created to celebrate the 2018 conference themes of: cultural diversity and inclusivity; inspiring imagination; and cultivating language.  It was provided to spark conversation, the sharing of ideas during and after the conference and to promote peer to peer learning, collaboration and a sense of community amongst the 800 delegates.
The space was inspired by the floor living cultures of the world.  Gathering and residing on the floor for everyday activities such as eating, cooking, resting, socialsing and crafting is a common tradition between cultures around the world. Sitting on the floor is one of our most natural positions (being a favourite with children) and there are many benefits.
The 'Yarn Yurts' lounge was set amongst artisan made yurts on a bed of floor rugs.  It provided a casual space for delegates to relax, have a yarn and contribute to a collective, modular artwork using the global languages of colour, pattern and smiling.
For more images please visit us on instagram @studioussam and #yarnyurts.
photography Sam Parsons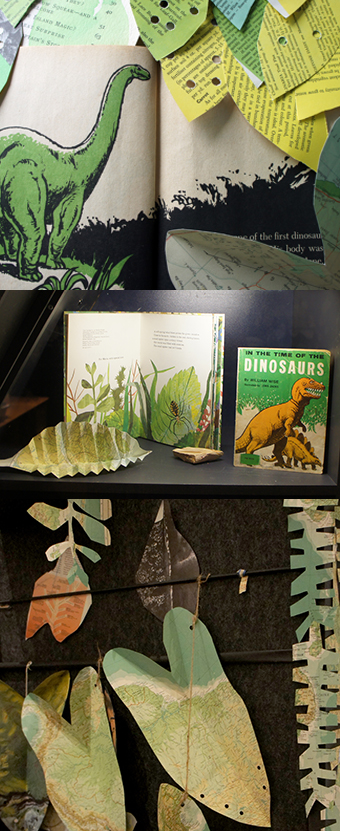 Several years ago now Sam created and facilitated a kids workshop at the Queensland Museum titled 'Jurassic Jungle'.  The workshop ran during school holidays and coincided with the Explore-a-saurus exhibition.  For more images please visit us on instagram @studioussam.
Millions of years ago when the dinosaurs perished so did a vast majority of the plants they ate and the habitat they lived in.  What would their landscape have looked like? Lush, tall, jungle like? What plants would have flourished?
Using paper and cardboard help craft and watch the jungle grow.  Who knows the dinosaurs may even come to visit!
photography Samantha Parsons

We are pleased to share with you a photo from a photo shoot we styled and directed.  Thank you to the amazing Brisbane children's photographer Maddie from Etta Photography.  Welcome to the world little man.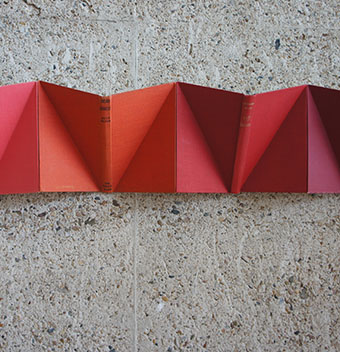 Sam was invited to participate in the QLD Museum's 2013 'Bespoke' exhibition.  Sam designed and developed a new series of works titled 'Bookscapes', which explored interior surface topography.  The pieces were a culmination of Sam's design background and her passion for folding, colour, fabrics and form generation.  These undulating wall surfaces, like Bookscreen, utilised discarded hardback book covers.
photography Sam Parsons

We are excited to present Outee – a furniture module and planter designed by Sam.
Outee was initiated to address real needs, in particular the challenges of urban growth.  It was designed with micro-scale spaces in mind. The compact design and adaptability of the module provides a spatial solution where floor space is limited.
The Furniture Module offers several functions simply by rotating it – a table and chair, a bar stool, a bench or a high table.
The Planter can be rotated to provide 2 different pot sizes for a variety of plants and / or stages of maturity.
Outee would be ideal for small outdoor spaces such as balconies.  It would also sit comfortably in bookshops, breakout spaces, kids bedrooms and the like.  Its flexibility would earn it high praise at  galleries, resorts, cafes, libraries, universities and schools.
The design of Outee was proudly supported through a Creative Sparks Grant, a joint initiative of Brisbane City Council and the Queensland Government through Arts Queensland.
photography Mindi Cooke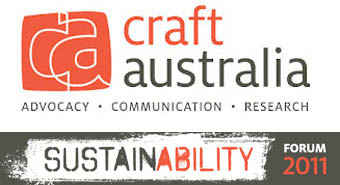 'Sam Parsons: Musing on a Sustainable Practice' was a special feature on the Craft Australia blog in 2011.
This is what I had to say:  "To me sustainability goes beyond material selection, recycling and minimizing environmental and social impacts. These should go without saying.  To me sustainability is about asking the bigger questions. Do we really need more designer furniture?  Does the design contribute something worthwhile?"
"As a designer I grapple with questions like these on a constant basis.  I am consequently committed to designing solutions that have real purpose, respond to everyday needs, are adaptable, contribute to the quality of life, can transcend transient fashion and importantly challenge society's 'throw away' mentality".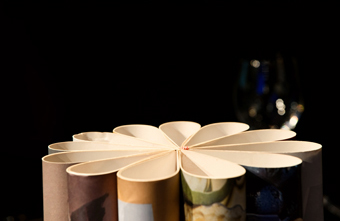 Studio Sam and seven other leading Queensland practitioners were invited by Artisan to showcase some works at The Premier of Queensland's Export Awards 2011.  Some of our Sienas and book sculptures were used as table centre pieces and provided "a fabulous talking point for the 800+ guests".
photos provided by Artisan
publication Inside Out, May-June 2011
product featured Mini Bookscreen
photographer, sylist and author respectively Derek Swalwell, Jason Grant, Carrie Hutchinson
The article features the Elsternwick home of creative pair Dean and Tanya Cherny.  Dean has been an "avid art collector" for 13 years.  A Mini Bookscreen is in some great company with paintings by David Bromley and Tim Storrier.  The "house relies primarily on a white palette, but strong colour is introduced in dramatic artworks and accessories".  The Mini Bookscreen's bright colours pop on top of a  custom designed, dark timber shelving unit in the living room.