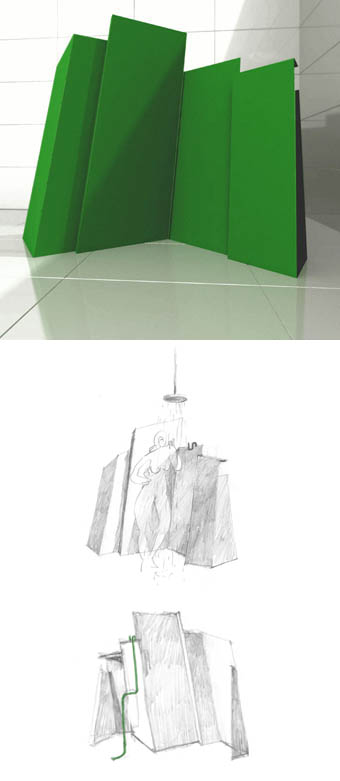 Date 2006 (for submission into the Reece Design Award, Bathroom furniture category)
Description Alba (Italian for Sunrise) is a freestanding, portable, lightweight, folding, screen for the bathroom. It consists of 5 hinged, sloping panels. Alba incorporates a fixed shelf, hanging points for towels and allows for optional attachments such as the towel pole or a full-length mirror. Its portability enables it to be used not only around the shower, but also around the bath or toilet so several people could use the bathroom at once. When space is a necessity it can be folded away into a compact form.
Materials It is intended that Alba would be made from lightweight, corrosion resistant, anodised, aluminium sheet, available in a wide variety of colours.
Inspiration Rock formations and waterfalls provided inspiration for the dynamic shape and profile of the panels.
Status Concept
Designer Samantha Parsons
3d simulation Jimmy Yuan
Illustration Russell Bryant