Date 2002
Description Floorscape is an interactive rug that can be easily folded, configured and reconfigured into freestanding structures. It has an integrated structure and a series of fold lines for simple, on the spot assembly without any separate, fiddly pieces.
Inspiration and influences were far and wide. They included: 1) day to day experiences of living in and growing up in Australia, 2) architecture, especially such masters of form as Le Corbusier and Felix Candela, 3) furniture where surface and structure were inseparable, 4) a curious exploration into tailoring, 5) paper folding and deployable structures, and 6) the traditional nomadic lifestyle of central Asia, especially the Mongolian ger (a simple, felt, tent-like structure with a timber frame) and their rugs. Notably these nomadic rugs each had a specific function (for example sleeping, eating, praying, or meeting) and when not in use they were simply rolled up and stacked around the outside of the tent.
Status Prototype
Awards Floorscape has been recognised by various awards programs
Designer Samantha Parsons
Photography Earl Carter (top image) Samantha Parsons (other)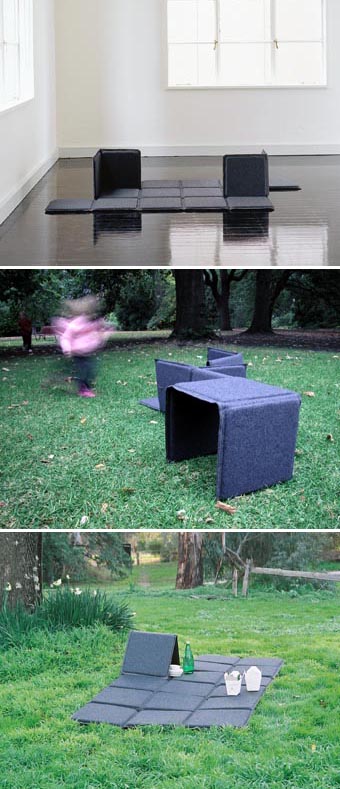 Date 2004
Description Floorplay was designed primarily with portability and simplicity in mind.
Floorplay consists of a grid of squares, fold lines, and slits enables it to be easily folded into a variety of low forms including screens, headrests, archways, tunnels, rooms or boxes.
Floorplay is suitable for all ages: a portable, clean surface for new borns and crawling legs, an engaging object for curious 4 going on 10 year olds, a comfortable headrest for resting or a visor for picnics in the park.
Floorplay provides design conscious parents a stylish children's product they can display in their home. Its simple, no fuss aesthetic enables it to form part of any decor. When not being used by the children, it can be left as a stylish floor rug. Alternatively it can be easily folded and stored away.
Floorplay has received tremendous recognition both in Australia and overseas, especially following the prestigious Milan Furniture Fair 2004. It was a finalist in the Australian wide, State of Design Award and it was exhibited in October 2004 at Tokyo Designers Block and Seoul Design Festival as part of an Australia exhibition titled Tyranny of Distance.
Status Prototype
Designer Samantha Parsons
Photography Earl Carter (top image) Samantha Parsons (other)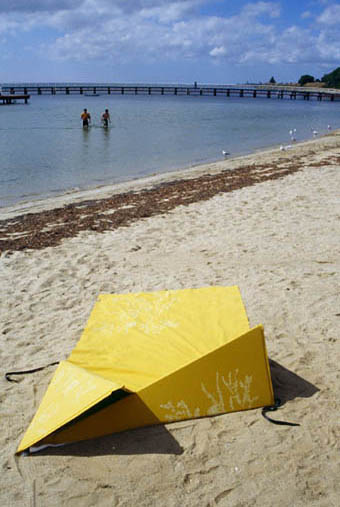 Date 2004
Description Beachboard was created to provide a convenient alternative to traditional beach towel. The headrest, with integrated structure, is ideal for reading on the beach. The structure also helps to delineate personal space and offers some privacy from passer-bys. The fins offers a safe, shaded place to hide drinks, valuables and belongings.
Inspiration Beachboard is reminiscent of Australia's beach culture; surfing, colour, fauna (eg shark fins), flora (eg tea tree foliage), cliff topography, sand landscapes (castles and dunes) and the play of shadows.
Status Prototype
Designer Samantha Parsons
Photography Samantha Parsons
Graphic motif Spacecraft