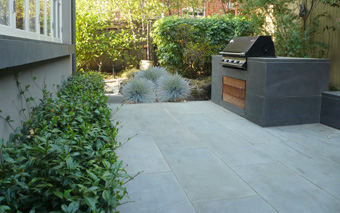 Studio Sam was engaged to prepare a landscape masterplan for an existing Armadale home. One of the areas included this outdoor eating area which functioned as an extension to the kitchen and internal dining area.  Bluestone was used for paving and cladding to the BBQ structure and linear bench seat.
client private
category landscape design
location Armadale, Victoria, Australia

In 2007 Studio Sam was engaged to design a cubby house and to prepare a landscape masterplan for a family home in Melbourne. The cubby was designed with a series of external ledges to enable fixed planting.  The cubby incorporated a shade canopy, a play deck, a shade tree, a vegetable garden, a bay window (with roller door), counter for role play, a water tank and a tool cupboard / wood stack for dad.  Importantly the design allowed for adaptability as the children grew and their needs changed.
client private
category landscape design
location Windsor, Victoria, Australia