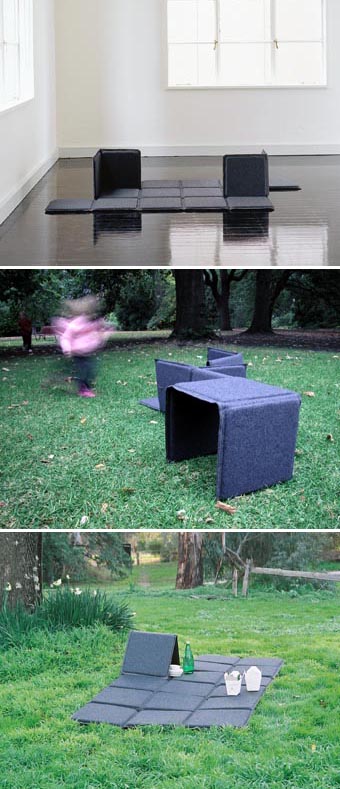 Date 2004
Description Floorplay was designed primarily with portability and simplicity in mind.
Floorplay consists of a grid of squares, fold lines, and slits enables it to be easily folded into a variety of low forms including screens, headrests, archways, tunnels, rooms or boxes.
Floorplay is suitable for all ages: a portable, clean surface for new borns and crawling legs, an engaging object for curious 4 going on 10 year olds, a comfortable headrest for resting or a visor for picnics in the park.
Floorplay provides design conscious parents a stylish children's product they can display in their home. Its simple, no fuss aesthetic enables it to form part of any decor. When not being used by the children, it can be left as a stylish floor rug. Alternatively it can be easily folded and stored away.
Floorplay has received tremendous recognition both in Australia and overseas, especially following the prestigious Milan Furniture Fair 2004. It was a finalist in the Australian wide, State of Design Award and it was exhibited in October 2004 at Tokyo Designers Block and Seoul Design Festival as part of an Australia exhibition titled Tyranny of Distance.
Status Prototype
Designer Samantha Parsons
Photography Earl Carter (top image) Samantha Parsons (other)