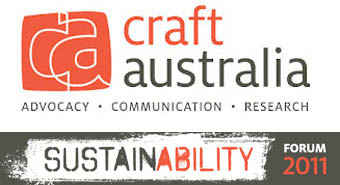 'Sam Parsons: Musing on a Sustainable Practice' was a special feature on the Craft Australia blog in 2011.
This is what I had to say:  "To me sustainability goes beyond material selection, recycling and minimizing environmental and social impacts. These should go without saying.  To me sustainability is about asking the bigger questions. Do we really need more designer furniture?  Does the design contribute something worthwhile?"
"As a designer I grapple with questions like these on a constant basis.  I am consequently committed to designing solutions that have real purpose, respond to everyday needs, are adaptable, contribute to the quality of life, can transcend transient fashion and importantly challenge society's 'throw away' mentality".