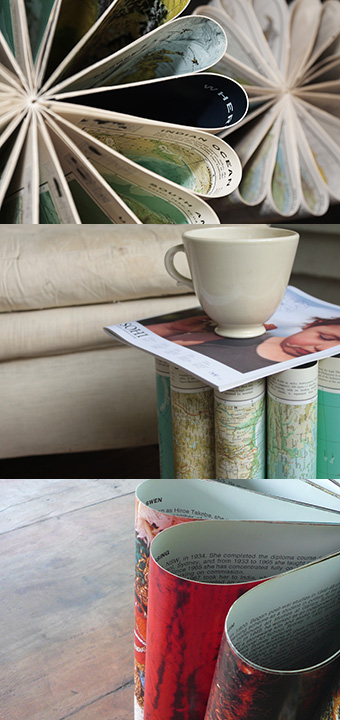 Siena is made from the pages of discarded books.  The original bookblock (ie the block of pages) provides the backbone to the table.  No glue is required during Siena's construction. Each item is an original and is hand-crafted by Sam herself.  The resulting forms are surprisingly sturdy.
sizes Siena is available in three typical sizes: Tall Siena the Bookblock Table (310 to 395mm high), Standard Siena (210 to 305mm high) and Mini Siena (less than 210mm high).
themes The possible themes are endless.  Some popular themes in the past have included: cooking, gardening, Australia, travel, the world, the universe, artworks, photography, butterflies, children's books or a specific colour.
photography Matt Moore (top), Monique Germon (middle) and Sam Parsons (bottom).
application The tall and standard Siena's function as occasional tables, either individually or in clusters.  They can be used with or without a tray / plate / glass / book sitting on top (whatever you have at home).
Alternatively Siena makes for an interesting sculptural feature sitting on a table, mantle or shelf.  They provide a great talking point as a table centre piece at a dinner party or function.