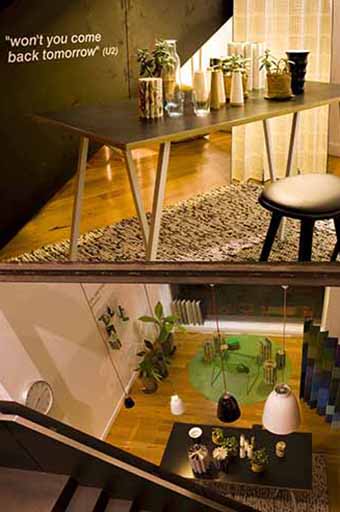 "Learn from yesterday, live for today, hope for Tomorrow" (Albert Einstein)
Tomorrow is more than just the day after today.  It is the future.
A series of rooms were choreographed at Cult, Brisbane by Sam based on colour and lyrics from carefully selected songs.
Several hand-made pieces from the Studio Sam's Booksmith range were included along side designer pieces from the Cult collection.
Sam wrote a mini biography for each object on display as a means of exploring their possible 'lifecycles' and encouraging visitors to reassess the value of things. Some of the objects were prized for their design, some were respected for their durability, others were treasured as 'collectables' or appreciated for their social responsibility.
Date November 2009 to January 2010
Photographer Geoffrey Marsh, Pride of Joy Photographics