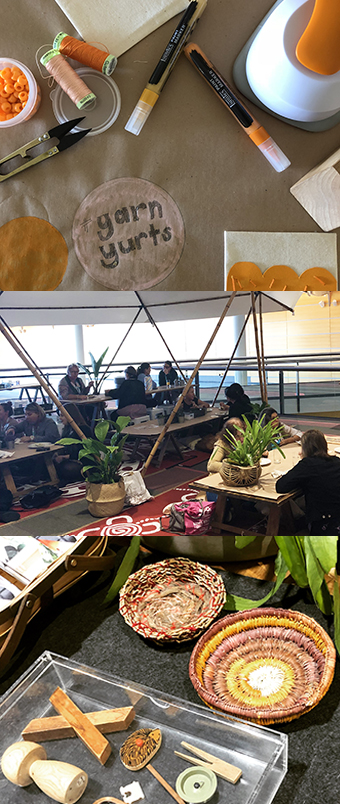 Sam was engaged by C&K to create a temporary breakout lounge and creative activity for their 2018 QLD Early Education and Care Conference at the Brisbane Convention and Exhibition Centre.
The lounge, titled the 'Yarn Yurts', was created to celebrate the conference themes of: cultural diversity and inclusivity; inspiring imagination; and cultivating language.  It was provided to spark conversation, the sharing of ideas during and after the conference and to promote peer to peer learning, collaboration and a sense of community amongst the 800 delegates.
The space was inspired by the floor living cultures of the world.  Gathering and residing on the floor for everyday activities such as eating, cooking, resting, socialising and crafting is a common tradition between cultures around the world. Sitting on the floor is one of our most natural positions (being a favourite with children) and there are many benefits.
The 'Yarn Yurts' lounge was set amongst artisan made yurts on a bed of floor rugs.  It provided a casual space for delegates to relax, have a yarn and contribute to a collective, modular artwork using the global languages of colour, pattern and smiling.
For more images please visit us on instagram @studioussam and #yarnyurts.
photography Sam Parsons